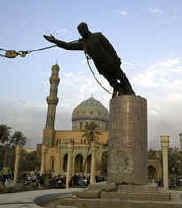 To a libertarian, dictators and their supporters are among the lowest lifeforms we have the misfortune of living on the same planet as. Their deaths should be marked by celebration, not mourning or protest. As Bernard has pointed out, December was a good month for dictator-deaths. November wasn't bad either, and January is shaping up well too – and it will top all the others if Castro, one of the longest-serving tyrants, finally kicks the bucket. So, how about a dictatorial death toll (with thanks to Bernard and Scott for the links):
Take that, tyrants – every one of those deaths marks a victory for freedom. And I don't care how well-intentioned they were, or whether the judges and ministers on the list were "just following orders'" – some crimes can never be forgiven.
Death penalty for dictators
The standard libertarian argument against capital punishment is that government cannot be trusted to implement it without mistakenly executing innocents. This argument does not apply to the death of dictators, whose crimes are in public view, and whose survival is only ensured by controlling an omnipresent state.
Another argument in favour of tyrannicide is that dictators could mount a Napoleon-like return from prison and back into power. As the case of Ion Dinca demonstrates, once a death sentence has been commuted, the officials who enable tyrants to stay in power are likely to be released as soon as the memory of their crime fades. And Saddam needed to be executed because he had tens of thousands of supporters willing to kill, die and bribe guards in the hope that he could be returned to power. No Iraqi prison could have held him after an American withdrawal.
The death penalty should also be applied to top terrorists for the same reason, especially in places with ineffective prisons. Many terrorists have escaped from Filipino prisons, including Jemaah Islamiyah members linked to the Bali bombings. They habitually carry wads of cash to bribe poorly-paid local policemen and prison guards. But the leader of Abu Sayyaf, Jainal Antel Sali Jr., won't be so lucky – he was killed by special forces on January 16th.
The strange case of Miguel Grima
You may have noticed an oddity in the above list – I included the mayor of a tiny Spanish village, who was assassinated just over a week ago. The entire population of the village of 37 are suspects. Why? Well, as Samizdata has pointed out, petty tyranny is still tyranny. He might not have ruined an entire country, or executed or tortured dissidents, but his policies were unjust, and he incurred the hatred of all his subjects. I hope the killers are never captured, and that one day tyrannicide will be considered a just defense against a murder charge.